Super Sensitive Cotinine / Nicotine Urine Test - (COT100) DCT-114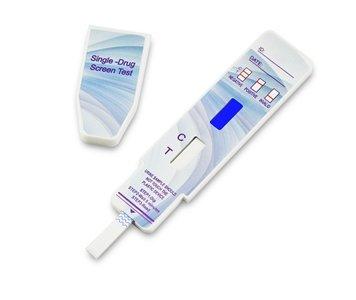 More Information
Instructions
Bulk & Save
Shipping & Returns
Super Sensitive Cotinine / Nicotine Urine Test - (COT100) DCT-114
Cut-Off Level: Meets the accepted standard cutoff level of 100 ng/ml
Detection Window: Detects the presence of nicotine for up to 2-4 days after use (and possibly longer, depending on the frequency of tobacco use).
Quick: Detects the presence of Nicotine/Cotinine in Urine in under 10 minutes
Easy to Use: To Use, just dip into Urine; no pipette required! One Line = Positive, 2 Lines (no matter how faint) = Negative
Accurate: 99% Accurate
For Forensic Use
Nicotine testing can determine whether recent tobacco use has occurred - and any sort of tobacco use at that - pipe tobacco, cigars, cigarettes, and smokeless tobacco. It is simple, easy to do, and extremely accurate.
Our tobacco test is a urine drug test that detects cotinine, which is produced when nicotine enters the body. It works like any other home drug test that uses urine. The urine sample is collected and an easy to read dip card is used to measure the nicotine levels. It takes only 5 minutes to determine whether the nicotine test is negative or positive. This test meets the accepted standard cutoff level of 200 ng/ml and will detect the presence of nicotine for up to 2-4 days after use (and possibly longer, depending on the frequency of tobacco use.
How Long Does Nicotine Stay In Your System?
When you smoke, nicotine is processed by your body and it will get rid of the substance over time. It is estimated that about 80 percent of the nicotine that you inhale is converted to cotinine in the liver. In the lungs, nicotine is metabolized into cotinine and nicotine oxide. The cotinine and other metabolites are then excreted in the urine. Cotinine is a reliable and necessary indicator of nicotine usage and in the scientific community is known as a "biomarker" for tobacco use. That's why a nicotine test is also known as a cotinine test – because the test actually tests for the presence of cotinine in urine.
The length of time that nicotine stays in your body for will depend on three factors: the amount you smoke, the number of years that you have been smoking for, and the type of nicotine test that is performed.
If the nicotine test is a urine test, you should be clean within 2-4 days of your last smoke. For heavy smokers, it might take a week (and possibly longer) for the cotinine traces to leave your urine or remain so small that they are undetectable. Cotinine may take longer to be released from the body if you smoke menthol cigarettes, so that is another thing to keep in mind. You can read an exact case study on this issue at Science Blog.
Cotinine is detectable in blood for at least several days after exposure to tobacco smoke. Depending on how much you smoke, the level of cotinine in your blood will reflect a nonsmoker level in 7 to 10 days.
The nicotine test that offers the longest detection window is a hair follicle nicotine test. These are rarely administered due to their expense, but they do exist. Nicotine can be detected for months after smoking cessation in the hair. Nicotine makes it to the hair the way all other drugs do, by its presence in the blood that nourishes the hair follicle.
While there are methods that you can use to clear your system of nicotine for a while, the ill effects of nicotine should be understood. There is nothing better than kicking the habit that can bring harm to you and your loved ones.
Can Electronic Cigarettes show up on a Nicotine Test?
Yes. The nicotine test is not testing for tobacco use, but instead for cotinine, a nicotine metabolite. E-Cigarettes produce an aerosol that contains nicotine and other tobacco-related compounds. While e-cigarettes may deliver less nicotine than traditional cigarettes, they can still show up on a Nicotine/Cotinine test.
Nicotine Test Uses
Businesses – More employers are testing their prospective or current employees for nicotine than ever. Life insurance companies continue to test for nicotine, through urine or blood-based testing, in order to determine premiums and detect fraud. Our nicotine test is a very standard urine test that is used by employers all over the country.
Test Yourself! – There are plenty of people who use nicotine tests, by themselves or in conjunction with their family, to gauge their progress in quitting and keep themselves honest. It's simple and easy to buy one of our nicotine tests for yourself and keep yourself on the long and difficult path to being smoke-free.
Parents – Every day in the US, approximately 3,000 teens under the age of 18 begin using nicotine and 4.5 million teens are smokers. As anyone who has been a smoker knows, smoking is very hard to quit, and it doesn't help that starting to smoke when you're a teen makes it more likely that you'll continue the habit than starting in your adult life. For parents these tests are a great way to keep your kid honest about their use, especially since second-hand smoke does not show up on these tests.
Dip Card Instructions
Bulk Discounts
Shipping & Returns Policies
Returns and Exchanges Policy
30 Days to Change Your Mind
Wrong Test? Needed to test Benzodiazepines (BZO) and not Barbiturates (BAR)? Accidentally bought more than you need? Did the test not work?

If you accidentally ordered the wrong product, aren't completely satisfied, or no longer need the test, you can return or exchange your products within 30 days from when you ordered the product. To start a return, please send your unopened and unused product(s) back to:

CountryWide Testing
15175 Innovation Dr
San Diego, CA 92128
We can only accept returns of used products if they are faulty or broken. Unused products must be inside unopened pouching. Please provide proof of purchase. Refunds will be processed within 7 business days. You will receive an email when your refund has been issued.
We will refund you by the same method as your original payment. If the returns criteria aren't fully met, Countrywide Testing reserves the right to refuse a return (or exchange) or offer a partial refund only. Shipping fees will not be refunded.
Please note that return shipping charges are the responsibility of the customer. If the order is over $75, please contact customersuccess@countrywidetesting.com for a return shipping label.
30 Days to Change Your Mind Terms and Conditions
It's important to us that you're happy with your Countrywide Testing purchase and that the products fit your needs.
If you're not completely satisfied, you can return the item(s) within 30 days of the order date. We will give you a refund by the same method as your original payment for your order if the product(s) were faulty, or for any unused products in unopened pouching. Please provide proof of purchase. If the product return criteria isn't met, we may refuse the return or offer a partial refund instead. Faulty items may be exchanged.

You may exchange your purchase once within 30 days of ordering if you ordered by mistake, provided that the product is not opened or damaged.
To begin the return or exchange process, please contact us at customersuccess@countrywidetesting.com. 
Shipping
Your order will be shipped on the same day as you purchase it if you order before 1:00 PM PST/4:00 PM EST. Any orders placed after this time will be processed and shipped on the next business day. We only ship Monday through Friday. Orders placed after 1:00 PM PST/4:00 PM EST on Fridays or on Saturdays and Sundays will be shipped the following Monday. We observe UPS and USPS holiday hours.
Orders are fulfilled quickly and requests for address changes or cancellations are not guaranteed. Please make sure that all order and shipping information is correct before the order is placed.
We cannot guarantee when your order will arrive once it is in UPS or USPS' system. If there is an issue with the delivery itself, please contact your local post office. We will assist you if there is any other issue with your order.
Countrywide Testing and Phamatech Inc. offer free shipping on orders $75 and over and we accept returns of defective or incorrect products. 
If you would like to check estimated shipping times for UPS ground, use
https://www.ups.com/maps
 and use the order date (if order placed before 3pm Pacific Time) or the next day's date (if order placed after 3pm Pacific Time), 92128 as the zip code, and select "Shipped from this ZIP code" and then click submit to see an estimated shipping time to see US area estimated delivery time. 
To check estimated shipping time for USPS Priority Mail, use 
https://www.usps.com/priority-mail/map/
 and enter 92128 as the ZIP code; this will show you an estimated shipping time to areas in the US. 
PO Boxes are shipped via USPS only.
Free Shipping
Free shipping is shipped via Ground. Ground shipping only applies for the lower 48 states. All other states will have applied shipping costs. Expedited shipping upon request, and the customer is responsible for any additional fees.