1 Panel EtG Alcohol Dip Card 300 ng/mL - HETG-105c MD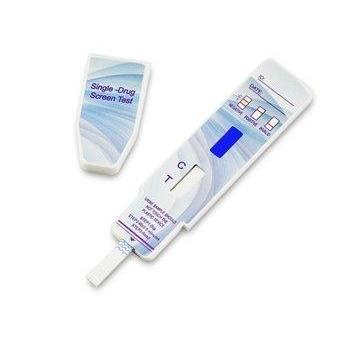 More Information
Instructions
Bulk & Save
Shipping & Returns
1 Panel EtG Alcohol Dip Card 300 ng/mL - HETG-105c MD
The EtG Alcohol Urine Test Kit provides laboratory-level accuracy almost instantly; with an 80 hour detection period, it's also a great tool for anywhere that has a zero tolerance alcohol policy.

While breath alcohol tests + saliva alcohol tests can give you the convenience of being able to be performed anywhere and being able to detect alcohol usage immediately, the EtG instant alcohol urine test gives the advantage of long-term detection and accuracy.

How long can you detect alcohol with this test? Alcohol is rapidly eliminated from the body (on average about one drink/hour for most people), so when you are looking for alcohol in breath, blood, saliva or urine, the rapid elimination of alcohol limits the detection window to a matter of hours with most other instant tests. However, this EtG test is different since Ethyl Glucuronide (EtG) was found to be a direct metabolite of alcohol (ethanol). EtG has emerged as the new marker of choice for alcohol for longer detection window tests. Other types of alcohol, such as stearyl, acetyl and dodecanol, metabolizes differently and will not cause a positive result on an EtG test.

EtG is stable in urine for more than 4 days at room temperature. Recent experiments indicate that heat does not cause the breakdown of EtG; on the contrary, it actually increases stability. In addition, no artificial formation of EtG was found to occur following the prolonged storage of urine at room temperature fortified with 1% ethanol.

Studies indicate that alcoholics in abstinence have no detectable levels of EtG in their urine after approximately 80 hours of detoxification.

This dip card detects the presence of Ethyl Glucuronide, which is a metabolite of ethanol alcohol (the alcohol found in alcoholic beverages). The presence of EtG in urine means the person has consumed alcohol within the past few days. It can be detected in urine even after the ethanol alcohol itself is no longer measurable.

Traditional methods of alcohol testing (like breathalyzers) measure the amount of ethanol alcohol itself in the body. Using this method only detects alcohol consumption for several hours. However, because this test kit detects the substance that the body produces as it metabolizes the alcohol, EtG testing is able to detect consumption for a much longer period, typically up to 80 hours.
 
The ETG Test Dip Card yields a positive result when the Ethyl Glucuronide in urine exceeds 300ng/mL.
 
Test
Calibrator

   
Cut-off (ng/mL)

   

Ethyl Glucuronide

   

Ethyl Glucuronide

   

300

   
For Forensic Use
Dip Card Instructions
Bulk Discounts
Shipping & Returns Policies
Returns and Exchanges Policy
30 Days to Change Your Mind
Wrong Test? Needed to test Benzodiazepines (BZO) and not Barbiturates (BAR)? Accidentally bought more than you need? Did the test not work?

If you accidentally ordered the wrong product, aren't completely satisfied, or no longer need the test, you can return or exchange your products within 30 days from when you ordered the product. To start a return, please send your unopened and unused product(s) back to:

CountryWide Testing
15175 Innovation Dr
San Diego, CA 92128
We can only accept returns of used products if they are faulty or broken. Unused products must be inside unopened pouching. Please provide proof of purchase. Refunds will be processed within 7 business days. You will receive an email when your refund has been issued.
We will refund you by the same method as your original payment. If the returns criteria aren't fully met, Countrywide Testing reserves the right to refuse a return (or exchange) or offer a partial refund only. Shipping fees will not be refunded.
Please note that return shipping charges are the responsibility of the customer. If the order is over $75, please contact customersuccess@countrywidetesting.com for a return shipping label.
30 Days to Change Your Mind Terms and Conditions
It's important to us that you're happy with your Countrywide Testing purchase and that the products fit your needs.
If you're not completely satisfied, you can return the item(s) within 30 days of the order date. We will give you a refund by the same method as your original payment for your order if the product(s) were faulty, or for any unused products in unopened pouching. Please provide proof of purchase. If the product return criteria isn't met, we may refuse the return or offer a partial refund instead. Faulty items may be exchanged.

You may exchange your purchase once within 30 days of ordering if you ordered by mistake, provided that the product is not opened or damaged.
To begin the return or exchange process, please contact us at customersuccess@countrywidetesting.com. 
Shipping
Your order will be shipped on the same day as you purchase it if you order before 1:00 PM PST/4:00 PM EST. Any orders placed after this time will be processed and shipped on the next business day. We only ship Monday through Friday. Orders placed after 1:00 PM PST/4:00 PM EST on Fridays or on Saturdays and Sundays will be shipped the following Monday. We observe UPS and USPS holiday hours.
Orders are fulfilled quickly and requests for address changes or cancellations are not guaranteed. Please make sure that all order and shipping information is correct before the order is placed.
We cannot guarantee when your order will arrive once it is in UPS or USPS' system. If there is an issue with the delivery itself, please contact your local post office. We will assist you if there is any other issue with your order.
Countrywide Testing and Phamatech Inc. offer free shipping on orders $75 and over and we accept returns of defective or incorrect products. 
If you would like to check estimated shipping times for UPS ground, use
https://www.ups.com/maps
 and use the order date (if order placed before 3pm Pacific Time) or the next day's date (if order placed after 3pm Pacific Time), 92128 as the zip code, and select "Shipped from this ZIP code" and then click submit to see an estimated shipping time to see US area estimated delivery time. 
To check estimated shipping time for USPS Priority Mail, use 
https://www.usps.com/priority-mail/map/
 and enter 92128 as the ZIP code; this will show you an estimated shipping time to areas in the US. 
PO Boxes are shipped via USPS only.
Free Shipping
Free shipping is shipped via Ground. Ground shipping only applies for the lower 48 states. All other states will have applied shipping costs. Expedited shipping upon request, and the customer is responsible for any additional fees.