5 Panel Drug Test Dip Card - ID-CP5-DIP-AZ10 - AMP, COC, THC, MET, MOP
More Information
Instructions
Bulk & Save
Shipping & Returns
5 Panel Drug Test Dip Card - ID-CP5-DIP-AZ10 - AMP, COC, THC, MET, MOP
The 5 Panel Drug Test Dip Card is a fast, easy to use and easy to read drug test. Results will appear in 1-5 minutes after the sample has been collected.
The 5 Panel Drug Test Dip Card is designed to be the easiest to use, being built as one piece with no cap, so you can leave the dip card in the sample (provided it doesn't pass the MAX Urine line) rather than holding the sample, removing the sample, closing the cap, and then laying it out on a flat surface.
5 Pack Identify Diagnostics 5 Panel Drug Test Dip with Lowest Opiates Cutoff - Testing Instantly for 5 Different Drugs: THC, COC, MOP, MET, AMP Identify Diagnostics 5 Panel Drug Test Dip with Lowest Opiates Cutoff - Testing Instantly for 5 Different Drugs.
Identify® Diagnostics drug test dips were created with quality, accuracy, & price as key features. This 5 panel dip has a low cut-off level of 300 ng/mL for Opiates / Morphine (MOP). Many other dips have an opiate cut-off level of 2,000 ng/mL. Dip tests in general are often lower in price than cup tests and this 5 panel dip test is one of several available versions trusted by medical professionals & home drug testers across the United States. These urine screening dip tests are FDA 510(k) Cleared, CLIA Waived, and Over The Counter (OTC) Cleared by the USA FDA having been held to a higher quality standard than non OTC cleared products.

This 5 panel drug test dip detects the following drugs at the below FDA recommended cutoff levels in human urine: 
THC - Marijuana 50 ng/mL (Can detect THC over 40 days after last Marijuana use depending on frequency of use & potency)
COC - Cocaine 300 ng/mL
MOP - Opiates / Morphine 300 ng/mL (Six times lower than many other brands)
MET - Methamphetamines 1000 ng/mL
AMP - Amphetamines 1000 ng/mL

Please view the image gallery featuring graphics designed to help understand how to use the drug tests, read results, and other useful test info.

Please Note: Occasionally a faint test line (T Line) may appear. Even a faint T line is considered a negative test result. Faint lines do occur from time to time throughout the instant drug test industry. The brightness of a T line can vary due to factors such as: protein levels, acidity, dilution, and specific gravity levels of a urine sample.

REMOVE CAP BEFORE DIPPING, dip in urine for 15 seconds. 2 lines appear if negative, 1 line if positive.
Over 99% accuracy in detecting drugs according to the listed cutoff levels:
Amphetamines AMP, Cocaine COC, Marijuana THC, Methamphetamines MET, Opiates / Morphine MOP
FDA 510(k) Cleared for OTC (Over The Counter), CLIA Waived for medical professional use.
At 300 ng/mL, the ability for this drug test to detect opiates in urine is greater than 6 times more sensitive than many other brands.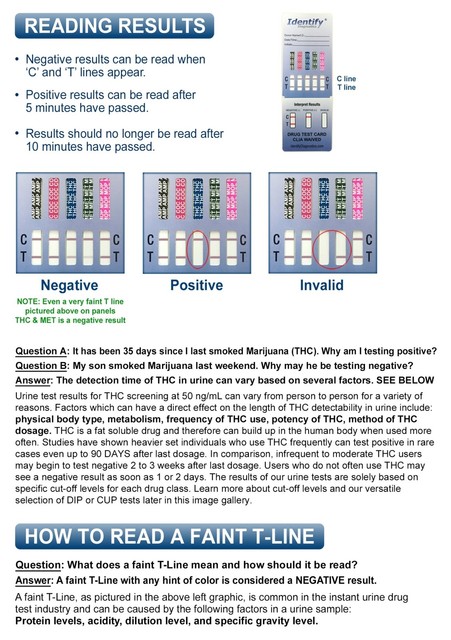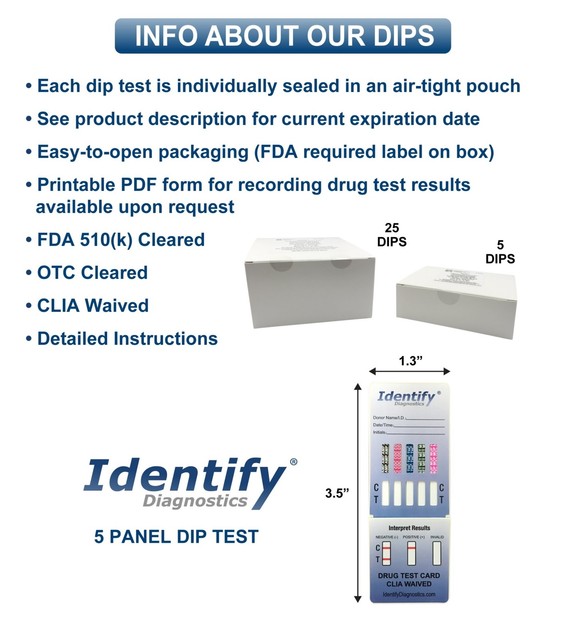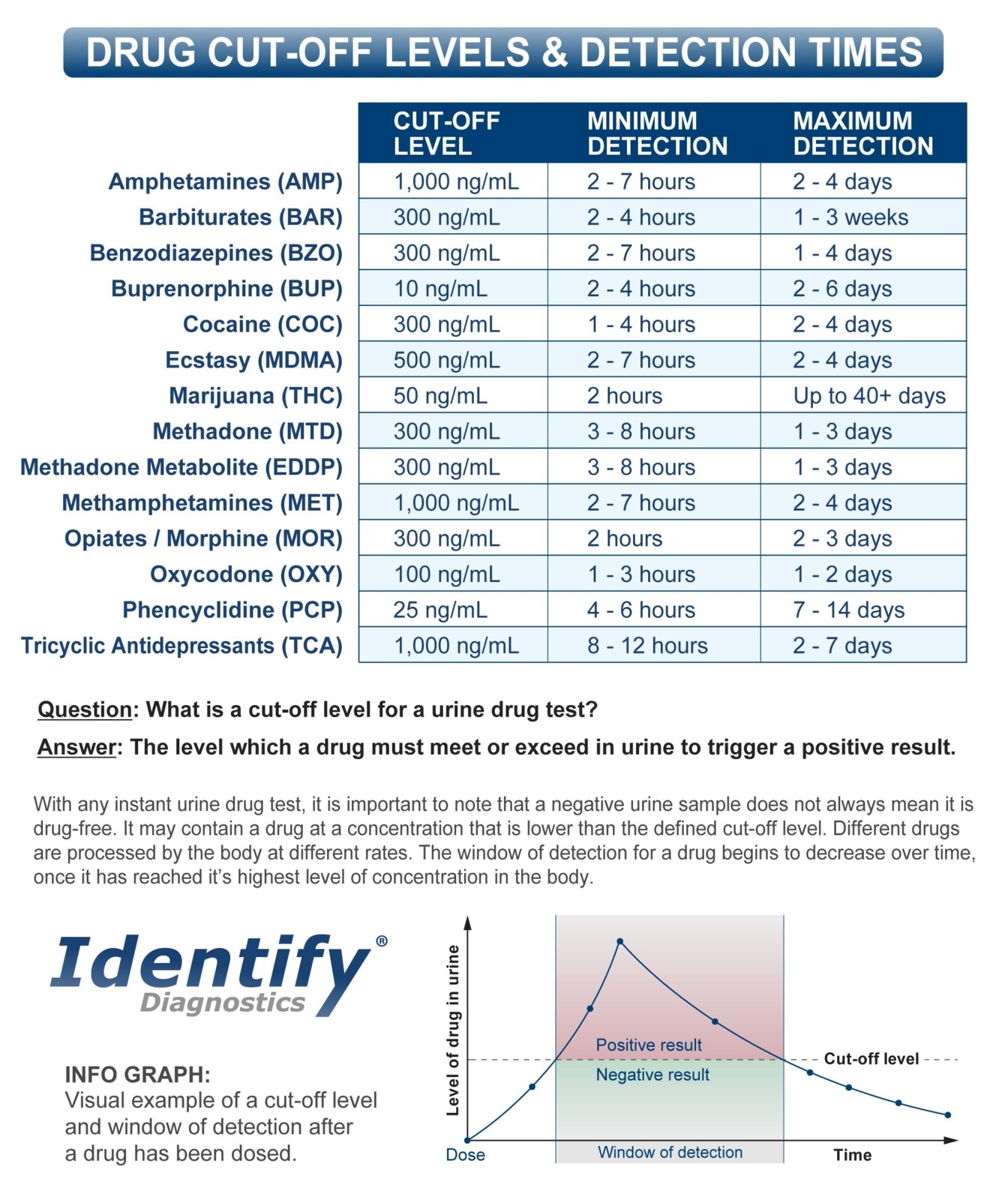 Dip Card Instructions
Bulk Discounts
Shipping & Returns Policies
Returns and Exchanges Policy
60 Days to Change Your Mind
Wrong Test? Needed to test Benzodiazepines (BZO) and not Barbiturates (BAR)? Accidentally bought more than you need? Did the test not work?

If you accidentally ordered the wrong product, aren't completely satisfied, or no longer need the test, you can return or exchange your products within 60 days from when you ordered the product.
We can only accept returns of used products if they are faulty or broken. Unused products must be inside unopened pouching. Please provide proof of purchase.
We will refund you by the same method as your original payment. If the returns criteria aren't fully met, Countrywide Testing reserves the right to refuse a return (or exchange) or offer store credit only. We will gladly refund first class shipping on returns only.
60 Days to Change Your Mind Terms and Conditions
It's important to us that you're happy with your Countrywide Testing purchase and that the products fit your needs.
If you're not completely satisfied you can return the item(s) within 60 days of the order date. We will give you a full refund by the same method as your original payment for your order if the product(s) were faulty, or for any unused products in unopened pouching. Please provide proof of purchase. If the product return criteria isn't met, we may refuse the return or offer an exchange or store credit instead. Faulty items will be exchanged.

You may exchange your purchase once within 60 days of ordering if you ordered by mistake, provided that the product is not opened or damaged.
To begin the return or exchange process, please contact Chelsea at [email protected] or call (469) 389-2120.
Shipping
Your order will be shipped on the same day as you purchase it if you order before 3:00 PM PST/6:00 PM EST. Any orders placed after this time will be processed and shipped on the next business day. We only ship Monday through Friday.
We cannot guarantee when your order will arrive once it is in USP or USPS' system. If there is an issue with the delivery itself, please contact your local post office. We will assist you if there is any other issue with you order.
Countrywide Testing and Phamatech Inc. offer free shipping on orders $75 and over and we accept returns of defective or incorrect products. 
If you would like to check estimated shipping times for UPS ground, use
https://www.ups.com/maps
 and use the order date (if order placed before 3pm Pacific Time) or the next day's date (if order placed after 3pm Pacific Time), 92128 as the zip code, and select "Shipped from this ZIP code" and then click submit to see an estimated shipping time to see US area estimated delivery time. 
To check estimated shipping time for USPS Priority Mail, use 
https://www.usps.com/priority-mail/map/
 and enter 92128 as the ZIP code; this will show you an estimated shipping time to areas in the US. 
PO Boxes are shipped via USPS only.
Free Shipping
Free shipping is shipped via Ground. Ground shipping only applies for the lower 48 states. For all other states and international purchases will have applied shipping costs. Expedited shipping upon request, customer is responsible for any additional fees.